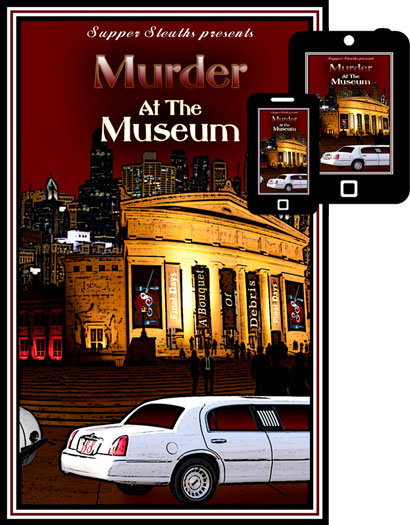 Murder at the Museum
 is a hilarious mystery dinner party game to be played by 8-20 friends throughout a 4-course gourmet meal. Guests will dine on the finest big city cuisine as they accuse, excuse, and act out the antics of a stylish art director, a dashing young architect, a hyperactive aerobics instructor, an angst-ridden art student, a dopey security guard, a crazy cat lady, a macho sports journalist, and many others who have come to the posh Rall Museum to celebrate the world premier of Raphaela I. Palleta's newest art collection, but discover the artist was murdered right before the unveiling! 
(Download a Free Sample!)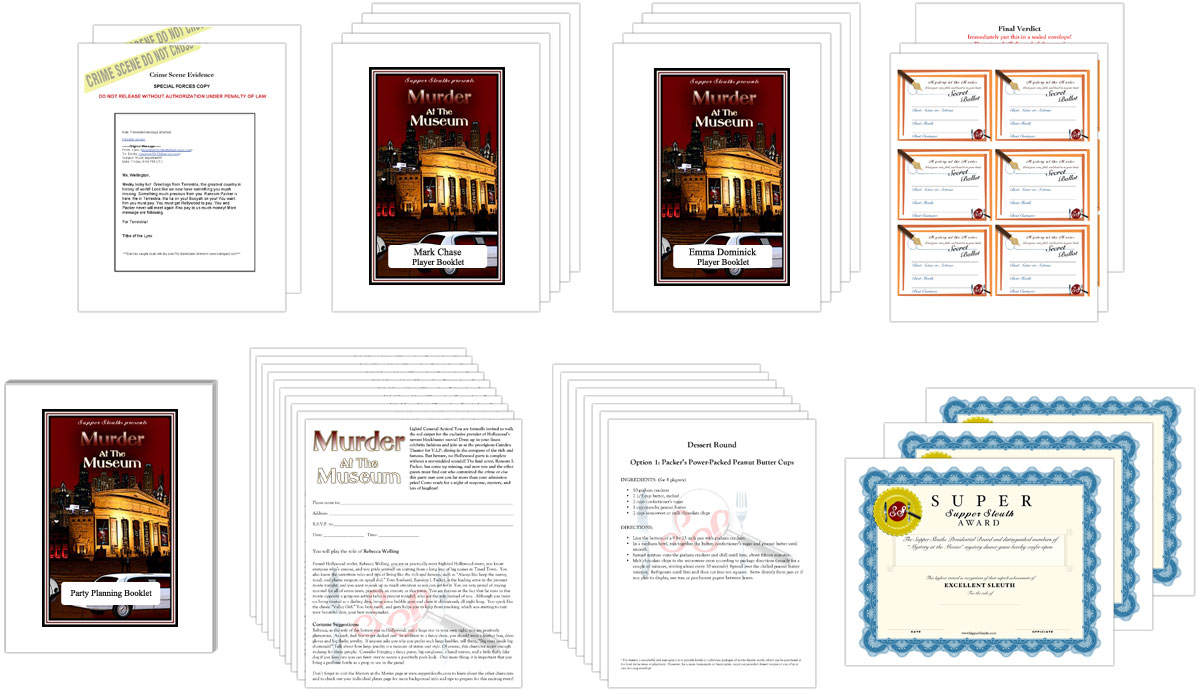 The Main Characters
*Each character is provided with costume suggestions, hilarious script, clue, and more!
Mark Chase: Raphaela's boyfriend and an up-and-coming in the world of architecture, Mark is a sophisticated and worldly man. However, when he's under the pressure of a deadline, he may not always play fair. Costume Suggestions and More!
Ramie Paletta: Though Ramie is Raphaela's twin sister, the girls seem to have nothing in common other than their good looks. With a top name in kickboxing instruction, Ramie is a martial artist who looks for very creative ways to release anger. An art show might be the perfect place. Costume Suggestions and More!
Eddie Grayson: A student at the university where Raphaela teaches, Eddie is a talented young man who has been her protégé. Her work seems to tirelessly consume Eddie's vivid personality, but what are the limits to this obsession? Costume Suggestions and More!
Jim Hall: Head security guard at the Rall Museum, Jim both haunts the corridors and taunts the patrons of the museum constantly. He is talkative tonight, but knowing the museum so well gives him lots of room for secrets. Costume Suggestions and More!
Michaela Gelato: As Raphaela's biggest competitor in the art world, Michaela is a dazzling and rare woman of talent and class. She's suspicious of anyone whose art is exceptional but could she also be desperate enough to sabotage? Costume Suggestions and More!
Jasmine Lipton: Ms. Lipton is a well-known benefactress, art collector, and cat lover. She has put forth thousands in support of Raphaela's work and tonight's unveiling may mean more to her than meets the eye. Costume Suggestions and More!
Tip Wright: A sportswriter for the city's biggest newspaper, everyone is stunned that Tip ended up at the Rall for an art show. How Tip reads into tonight's show is critical, considering his words are going to be splashed over the city tomorrow. Costume Suggestions and More!
Emma Dominick: Emma is the beautiful and stylish art director at the museum, and is emceeing the art show. Friends with Raphaela since college, Emma's judgment has always meant the world to her. How that judgment will fall tonight remains to be seen. Costume Suggestions and More!
Rolo Reed: Head waiter from Britain, Rolo is honored to be part of this formal affair and he's not about to let the night turn sour at his first chance to dine with this cosmopolitan crowd. Unfortunately, he seems to have forgotten he is still on duty tonight! Costume Suggestions and More!
Libby Reed: Wife to Rolo Reed, Libby is in awe of the fancy, dazzling crowd before her. She is a fumbling, love-struck, and gossipy Brit who will warm your heart, serve your dinner (if you're lucky!), and bring lots of endearing laughter to any party! Costume Suggestions and More!
10 Extra Characters
*Each character comes with invitation, costume suggestions, character summary, and more!
Mrs. Sylvia Hall: Mother to security guard Jim Hall, Mrs. Hall is a brash, old-school reminder of your lunch lady or great aunt with attitude. This spinster may seem feeble at first but her frank tongue can bring out the best and the worst of many a character!
Little Joe Rizzo: This delivery bike rider is an Italian family man who knows how to find anything in the city, including the best food in town. He's a polished, proud family man who's got a chip on his shoulder for the recent blemish to the family name. Watch out for this macho man!
Max P. Krenshaw: This street performer was swept into the museum along with his fun loving sidekick, puppet "Charlie." His double-edged humor will make characters laugh in spite of their groaning, and may even add some magic to the night!
Christy Wyeth: Teaching assistant to the great Raphaela, Christy is long overdue for a break, especially in the sense of her upcoming baby delivery. This art teacher is glowing with baby pride and anger at her teacher for making her show up for this fiasco!
Randall "Bow" man: This exquisite English violinist was hired as the musician for the event but he and Raphaela's clash of cultures may be too much for him to handle, especially in light of the shocking discoveries he's made about this classless crowd!
Carmen Brightly: A well-known, classy photographer, Carmen truly cares about the art and soul of photography. But what happens if and when she captures shots no one's prepared for?
Willy Blank: A construction worker with plenty of shoddy opinions on art, Willy is a brawny guy with an overprotective attitude over the place. But can even his well-intentioned eye catch everything that happens after hours?
Clementine Sparks: The girl for whom the phrase, "Don't quit your day job" was invented, Mrs. Sparks is just waiting for her day as comedy queen. Don't get stuck with this coffee-shop barista and bad comedian for too long or you'll be the one calling it quits!
Seymour Sizemore: Larger than life with an attitude to match, this city clerk is ready to take credit for all of the good in his city. But when the lights go out in the city, who will he blame for the blot on his good name?
Bernadine Winchell: A stuffy, nervous curator of the museum, Bernadine is passionate about art, but unprepared for the catastrophe. Ms. Winchell will make your group squirm with laughter, as you enjoy her nerdy antics as well as her quirks.
Please Note: All characters, places, events, and situations appearing in Supper Sleuths games are purely fictitious. Any resemblance to real persons, places, events or situations is not intended and is purely coincidental.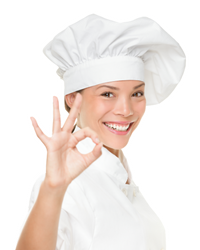 The Delicious Recipes
Artisan Artichoke Dip
Choice Cherry Salad
Creamy Tomato Chicken Tortellini
Pecan-Crusted Salmon
Buttered Vegetables Almondine
Double Chocolate-Covered Strawberries
Savory City Cheesecake
Black and White Cookies
Recipe Details and Download
Game Kit Instant Download
For 8-10 players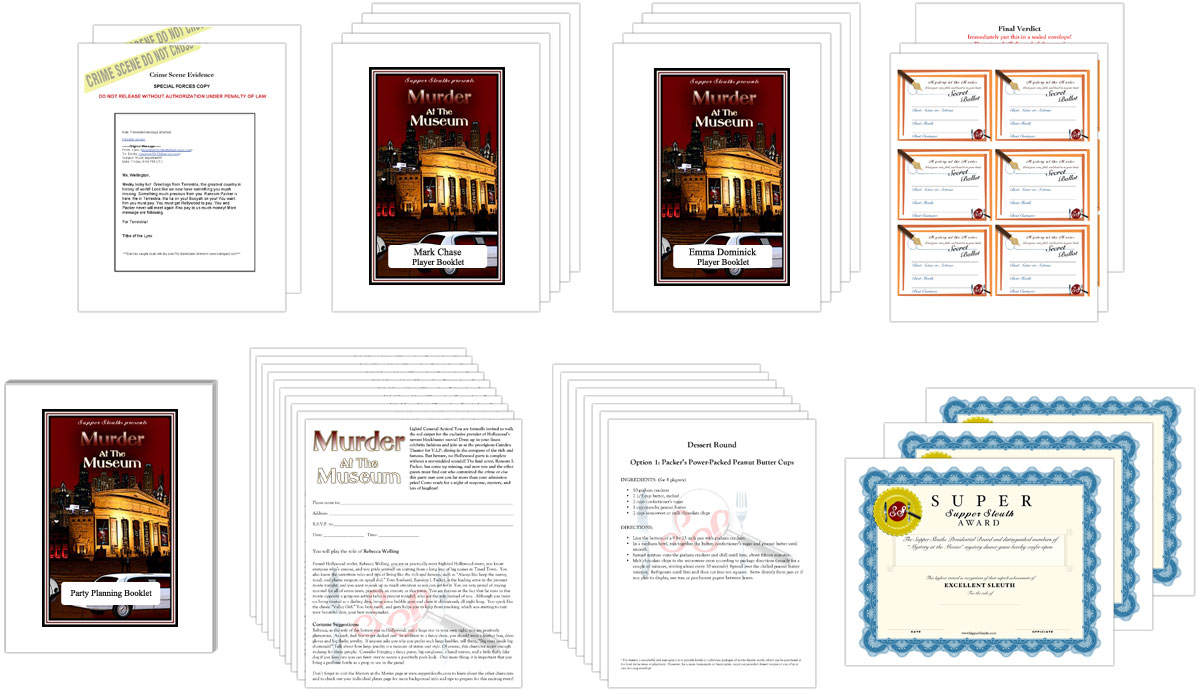 10 Extra Players Download
Host up to 20 guests!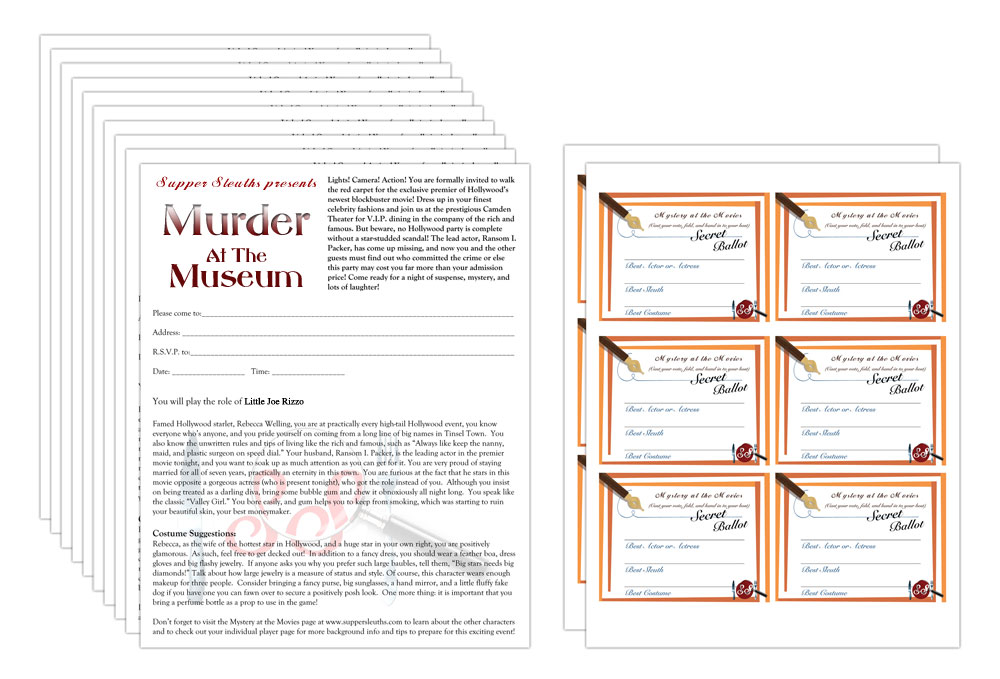 * Please note downloads will be available for 10 days or 10 attempts, whichever comes first.  You may request your download links to be reactivated at any time.  Reactivation may take up to 48 hours.