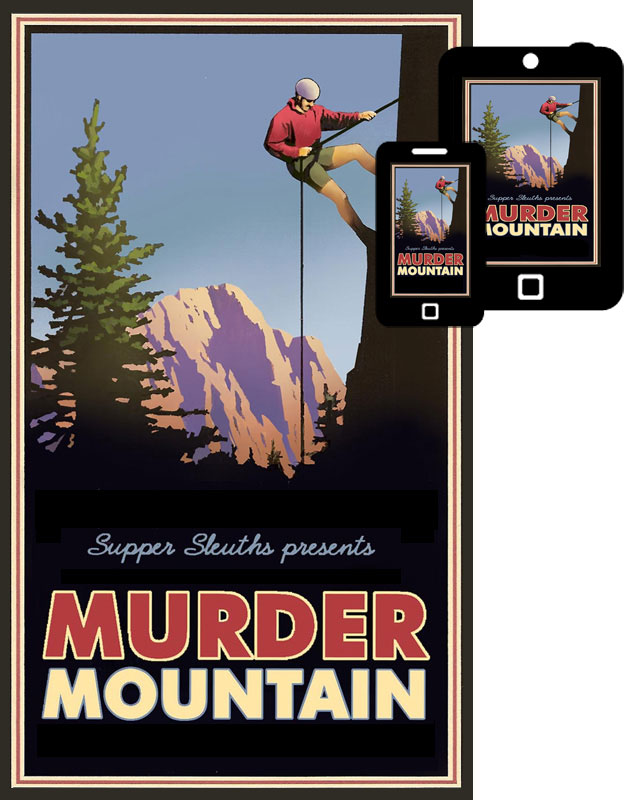 Murder Mountain
 is a hilarious mystery dinner party game in which your place becomes a lodge in the South Pacific where you and 8-20 guests have come to compete in the annual race to climb Mt. Booyakasha. The prize is $1 million, but the price is death when the leading contender, Richard I. Price, is found dead in his tent on the way up! Feast on succulent South Pacific selections as you act out the hilarious antics of an extreme sports fanatic, a sexy but sneaky supermodel, a mysterious old man in the mountain, a nutty anthropology professor, a big and handsome mountain guide, a pesky photojournalist, a yodeling Northern European, and many others who must now compete for freedom from a life sentence!
(Download a Free Sample!)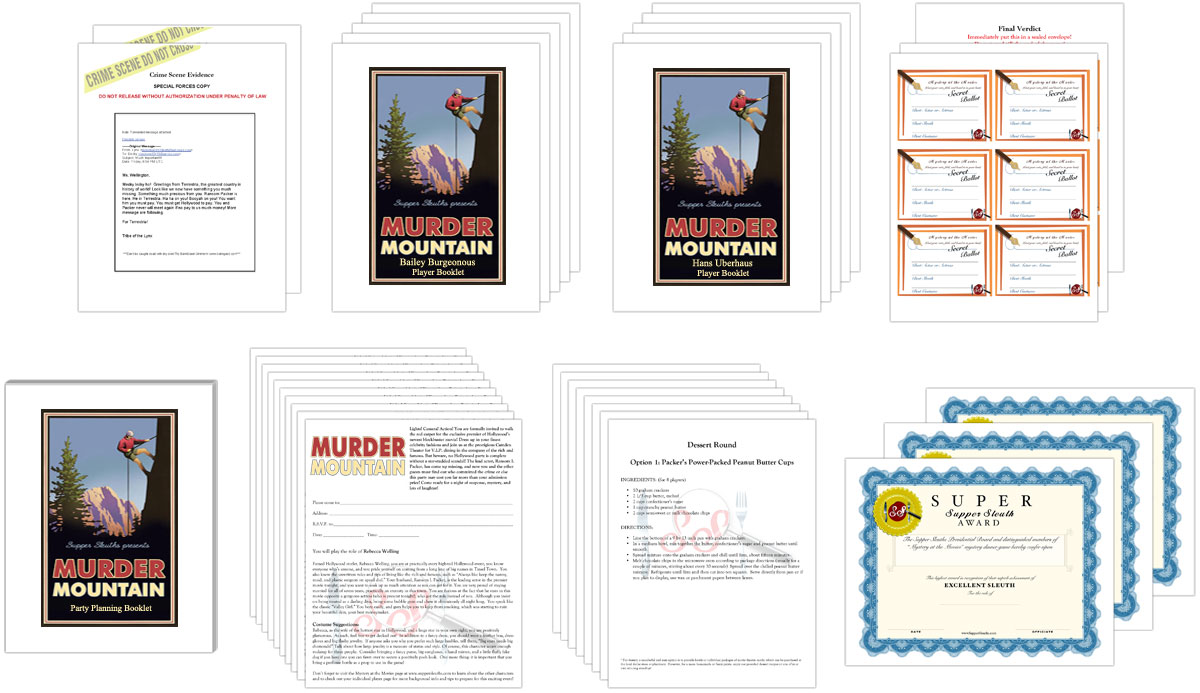 The Main Characters
*Each character is provided with costume suggestions, hilarious script, clue, and more!
Bailey Burgeonous: A world-famous supermodel from NYC, this buxom babe is fit, famous and fearless. But what is she willing to do to win for her favorite charity? Character Page
Chelsea Majestic: Daughter of the late Michael C. Majestic, Chelsea is used to getting her own way, and wants the family name to remain at the top of this mountain forever! Character Page
Razzy Darkshoot: An eccentric photographer, Miss Darkshoot wants to make sure her photos are both beautiful and unique, and as a starving artist, she would be desperate to make a chunk of change like this. Character Page
Dr. Mara Meddling: As a quirky and stubborn anthropology professor, Dr. Meddling has certainly studied the culture and geography of the Arobi Indians enough to know the terrain the mountain range offers the path to safety, and maybe to demise. Character Page
Simon Mirkweather: This weather-beaten, old soul has lived as a recluse in a shack halfway up Mt. Booyakasha for 45 years. In his late 60′s, Simon is highly intelligent, willful and patient, characteristics that shouldn't be discounted when you combine that with his superior knowledge of the mountain. Character Page
Bryan Steed: Mr. Steed has one thing on his mind – winning! He lives for the thrill and adventure of competition. As both a mountain guide for a U.S. range, and a previous Olympics runner-up, Bryan is numbered as one of the most likely to win. But just how far will he go to make sure of it? Character Page
Ben Thrashing: An Extreme Sports nut, this 21 year old is ready to prove his manhood, muscle and mountain climbing skills. How far is too far when it comes to getting his thrills is yet to be seen. Character Page
Hans Uberhaus: From a small and nationalistic village in Northern Europe, Hans has been selected to lead his people in a victory climb that will once again put them on the map, and also in the money. Hans may be tall, dark, and handsome but he is also enterprising and absolutely desperate. Character Page
Jerry Botswani: An overgrown boy scout of nature, Mr. Botswani is a lover of challenges. This daddy of the drawstring pouch is fun and prepared for all of the peaks and valleys this group will encounter! Character Page
Jerri Botswani: Wife and partner to Jerry Botswani, Jerri is full of fun and loves nothing better than training others for hikes all over the world. But can she separate her work and play long enough to see real trouble when the stuff hits the fanny pack? Character Page
10 Extra Characters
*Each character comes with invitation, costume suggestions, character summary, and more!
Sam "Snake Eyes" Jager: This boy's hot on the trail of any crocs, caiman and other dangerous prey. But when it comes to life for life in the great outdoors, will Sam's thirst for adventure overtake him?
Kelly Sapphire: Kelly may be yesterday's top story, but today she is just a washed up pop star waiting for another break. Now that she's got the spotlight for a moment, she may do anything to keep it!
Pete Volair: A man of the skies, Pete is a daredevil pilot who spun his riders out of control on their trip to the island. He's looking for thrills, but when disaster strikes, how will he handle a real crash landing?
Mindy Silverstein: A snobbish network TV executive, Mindy came down here to direct footage of the contest. When it gets cancelled, how will this prima donna survive losing millions of network dollars and plummeting ratings?
Lana Tiao: Dance instructor for the mountain resort, this pretty lady wants to spread her gifts abroad. Let Lana tickle your fancy by offering you soothing words, teaching you a few steps, or rubbing your temples. But beware; this island princess has her own survival instincts!
Larry Fishback: This burly man's on a quest for gold in an old mine under the mountain. Nothing can stop him in his lust for money. Hold onto your wedding rings when Larry's on the loose!
Dr. Jared Danes: Physician to the mountain climbing contestants, even this strong and outspoken doctor can't handle the willful and selfish crowd. But watch out when Dr. Danes is on duty. He may yet write you a prescription you won't want to follow!
Drew Moberly: The mountain is riddled with advertisements for Moberly Tours because Drew will do almost anything for a paying customer. Join this ambitious and desperate tour guide on a mountain climbing journey where you'll be sure to get your money's worth!
Adele Harpin: Mrs. Harpin runs a tight ship at the resort and is incredulous over this topsy-turvy group. This English dame is a fun part of any crowd, since she's not letting go of the reins no matter who's on the other end!
Violet Quinn: A health-food storeowner and sponsor of the climbing contest, Ms. Quinn is on a mission to convert the junk food junkies and find more secret remedies. Unfortunately for Violet, some things in nature are best left untouched!
Please Note: All characters, places, events, and situations appearing in Supper Sleuths games are purely fictitious. Any resemblance to real persons, places, events or situations is not intended and is purely coincidental.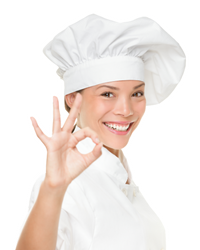 Delicious Recipes
Hawaiian Wontons
Mandarin Almond Salad
Spicy Polynesian Wraps
Buttered Vegetables Almondine
Hawaiian Chicken Kabobs
Mountain Dew(TM) Cake
Super Samoa Cookies
Recipe Details and Download
Game Kit Instant Download
For 8-10 players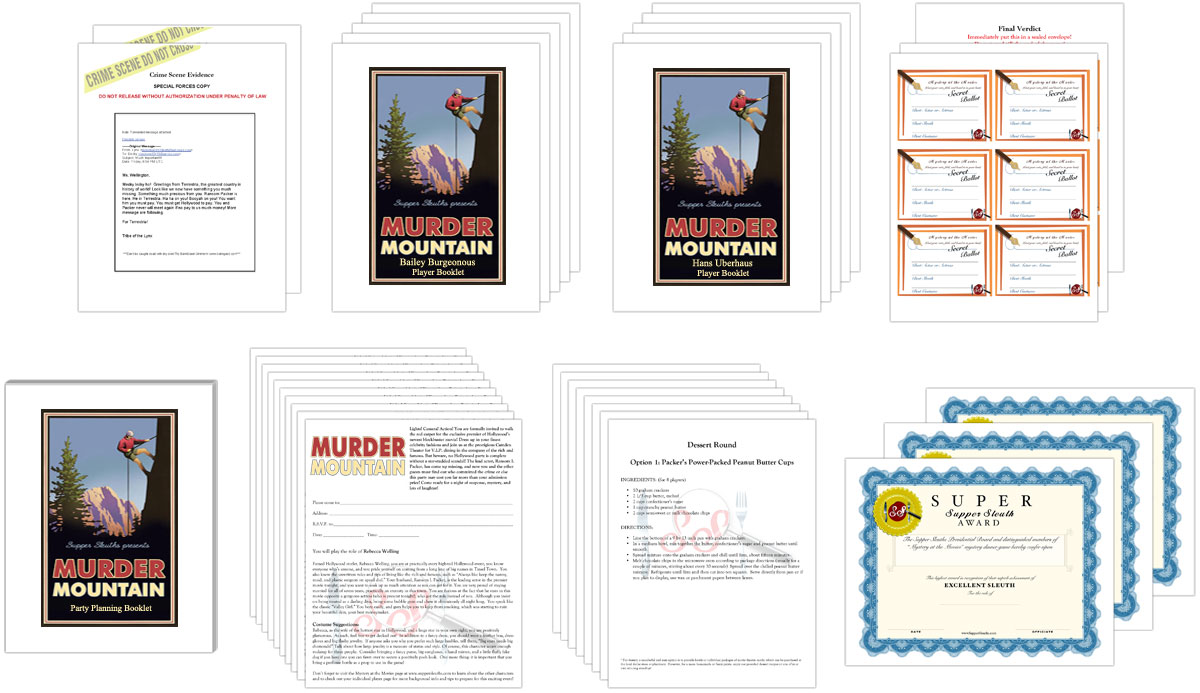 10 Extra Players Download
Host up to 20 guests!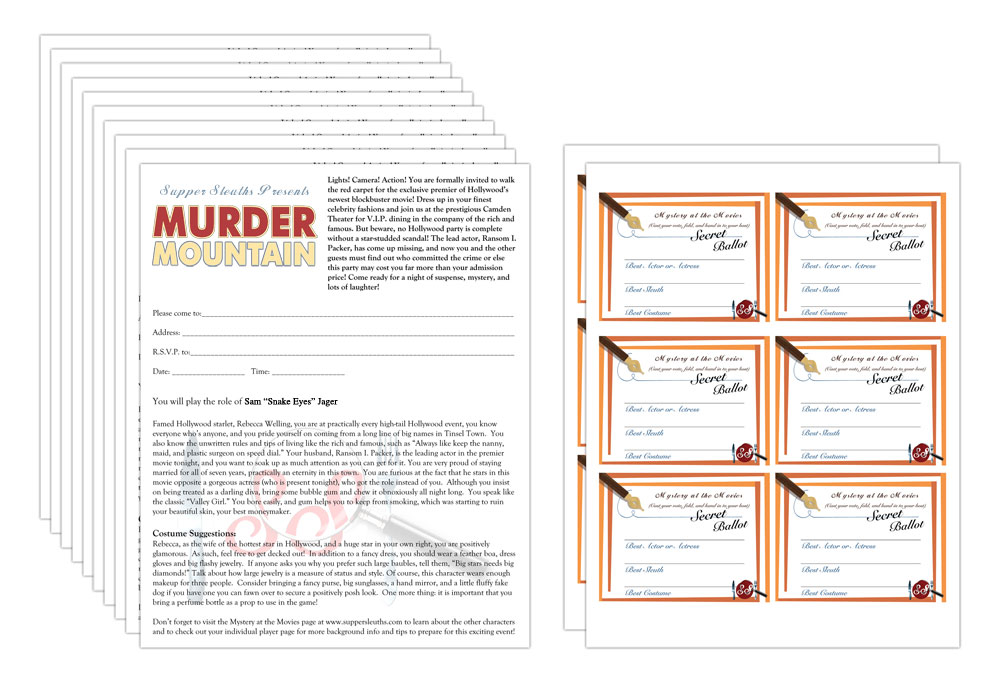 * Please note downloads will be available for 10 days or 10 attempts, whichever comes first.  You may request your download links to be reactivated at any time.  Reactivation may take up to 48 hours.